Ayre Ventures is looking for companies ready to ride the wave of BSV blockchain adoption
Enterprises and governments continue to ramp up adoption of the BSV blockchain, a rising wave that Ayre Ventures aims to help drive startups all the way to the bank.
On the last day of the 2023 London Blockchain Conference, there was a presentation by Paul Rajchgod, Ayre Ventures (AV) Managing Director, Private Equity, on "The Wave of Enterprise Adoption" currently underway on the BSV blockchain.
For the uninitiated, Rajchgod informed the public that AV is led by none other than entrepreneur, philanthropist and founder of the London Blockchain Conference, Calvin Ayre. AV is passionate about projects based on the scalability and usability of BSV, as well as projects involving unrelated emerging technologies, real estate and publishing.
Ayre Venture's goal is to "positively disrupt" the tech space based on BSV blockchain's ability to reshape the world. Over the years, AV has invested in numerous companies using BSV blockchain to bolster what Rajchgod joked was their "unfair advantage" over rivals in industries such as software, Bitcoin infrastructure, fintech, gaming, metaverse, media /publishing and more.
Rajchgod noted that many of these companies "happen to be the top consumer-facing companies in the BSV community." Rajchgod quipped, "I'm not just saying that because the CEOs of some of these companies are in the room."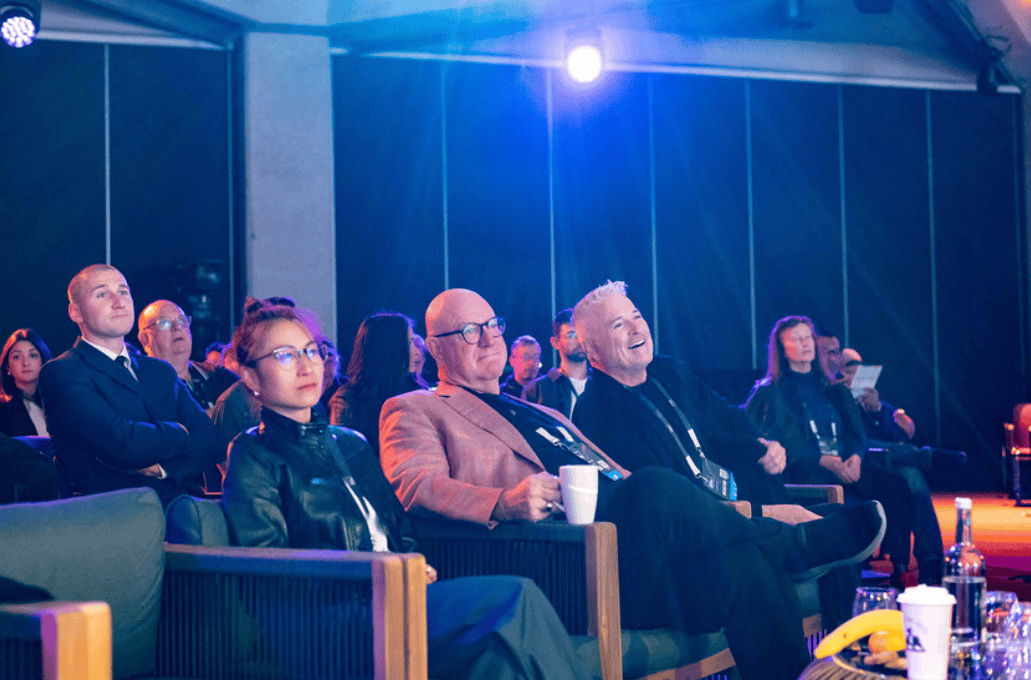 The reason why these companies have managed to outshine the rest of the pack is due in part to BSV blockchain's limitless scalability, ultra-low cost, and resiliency, a strength it has demonstrated time and time again. These are all important requirements for further adoption by companies and governments.
It's not easy being green (if you don't use a BSV blockchain)
Given the priority placed on environmental issues by both governments and companies, Rajchgod was keen to highlight the eco-friendly status of BSV blockchain, especially when compared to some notoriously energy-intensive proof-of-work (PoW) blockchains.
He asked the crowd to imagine a London Underground running at 10am on Sunday morning and the same train running at 5pm on Friday. Compared to the Sunday morning train, the 5 p.m. train will be "very full, very crowded, very uncomfortable, but also very efficient" in getting a large number of people to their destination. "This is what a typical block looks like on the BSV blockchain versus other chains."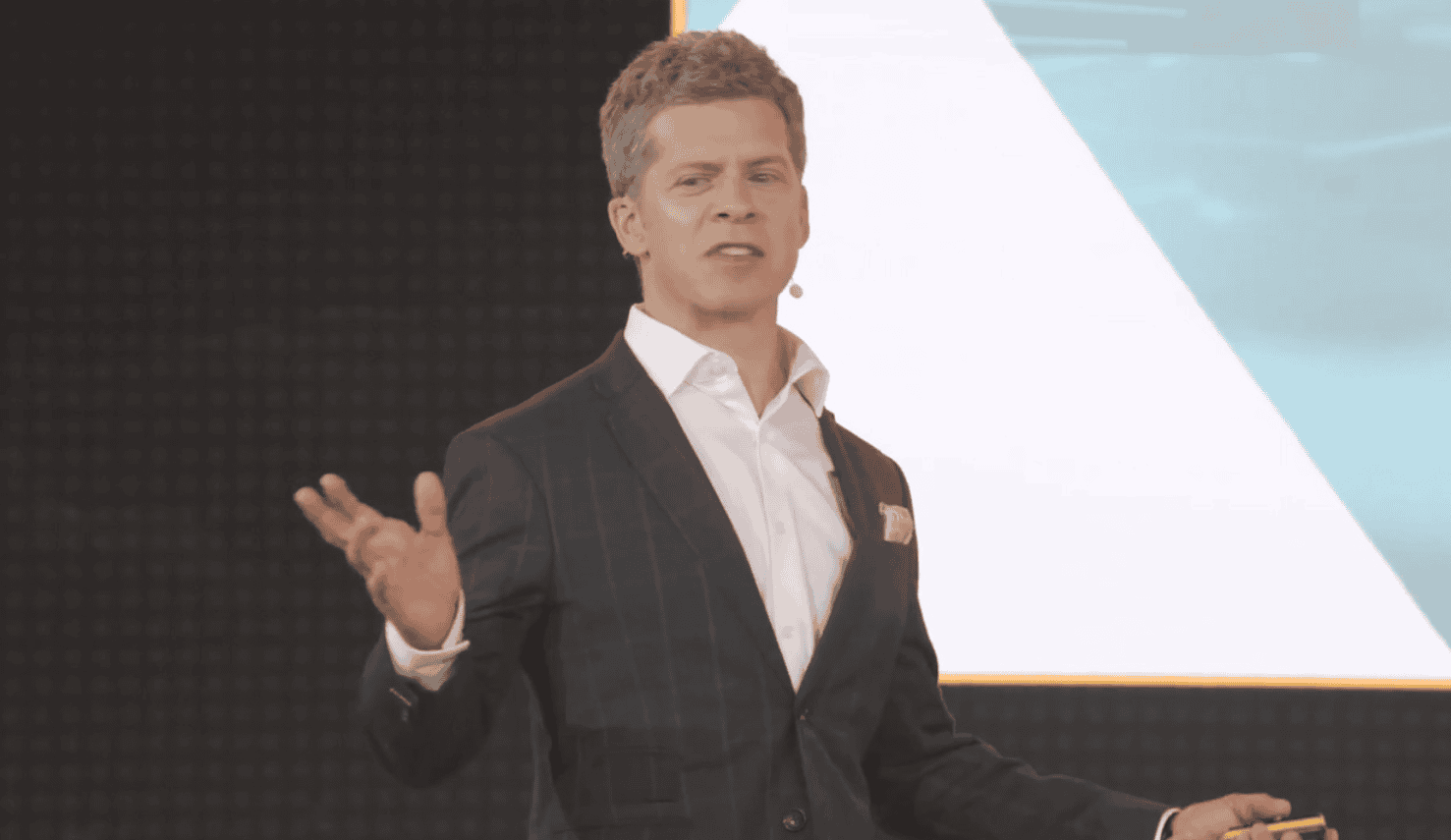 Expanding on this, Rajchgod noted that in the previous week, a single BSV block contained about 3.7 million transactions. "Many other blockchains don't have that kind of activity in an entire week. This kind of activity is very common on the BSV blockchain."
BSV's activity level is therefore "highly efficient based on energy output per transaction". More transactions and bigger blocks equate to more efficiency per block, a metric Rajchgod emphasized is "continually improving".
Zero apologies
BSV blockchain's ability to cram more commute transactions into its blocks has earned it a well-deserved reputation as the most cost-efficient blockchain, but Rajchgod offered some really striking details.
Loading a slide that read "Five zeros, then an 8," Rajchgod explained how BSV-based companies like mintBlue record per-transaction fees as low as $0.0000084, while some large enterprises have since taken it up to $0.000001 pushed.
Rajchgod cited these numbers as evidence of the BSV blockchain showing that "economics is at work: the more something scales, the lower it costs per unit." While supporters of some other blockchains like to argue "that's not how it works," Rajchgod says that BSV blockchain "shows that the laws of economics, business and capitalism also apply in the blockchain world, with an ever-decreasing transaction price on a per- unit base. This makes it even more beneficial for companies and governments to finally adopt blockchain technology."
One big tasty date pie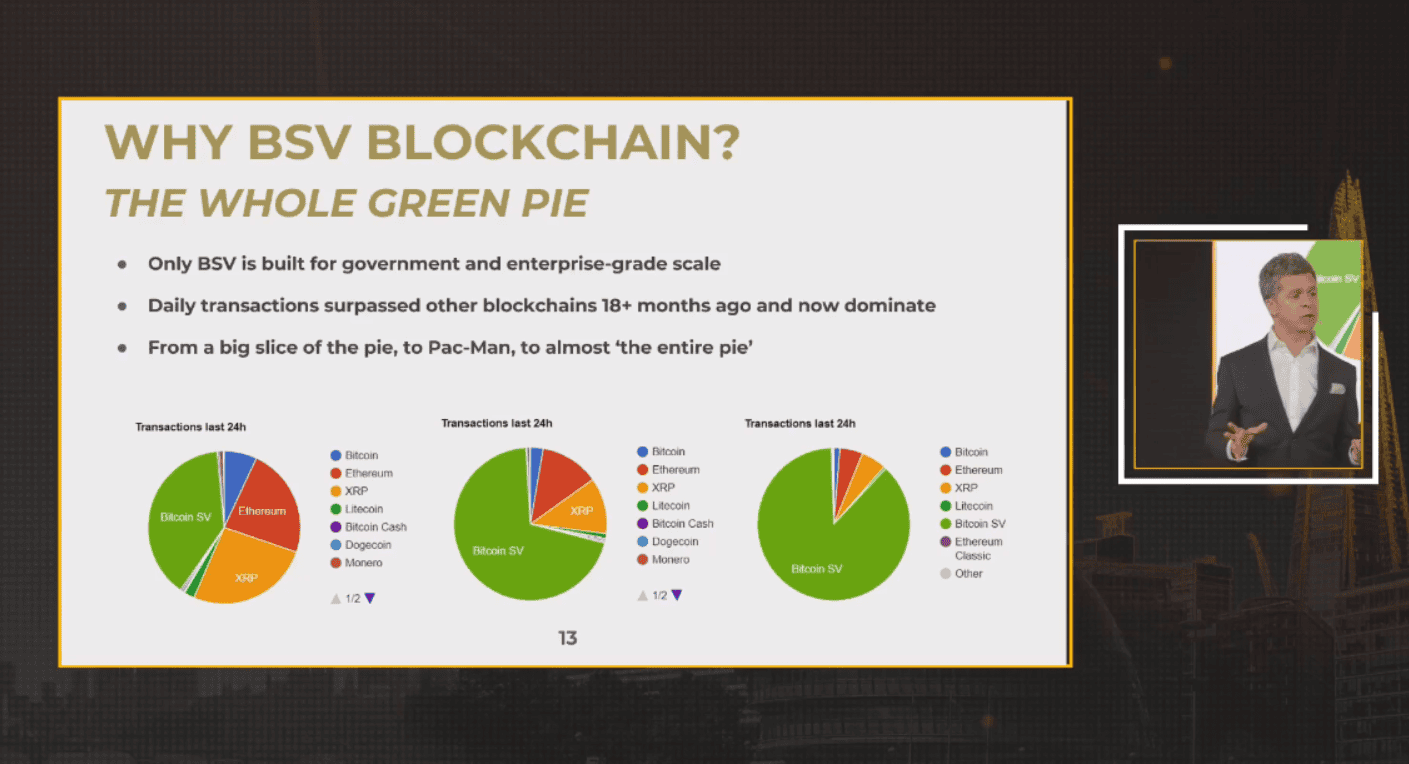 The transaction growth of the BSV blockchain over the past 18 months can be vividly illustrated in daily transaction pie charts. As Rajchgod put it, BSV blockchain initially represented a small slice of the pie, then a larger slice, beyond "the Pac-Man everyone is talking about, to some days the whole damn pie." BSV blockchain is not (yet) the whole pie every day, but the trend is clear. The other chains cannot compete with the BSV blockchain because they cannot scale. "That's all there is."
The demonstrated cost-efficiency and scalability of BSV blockchain also enables it to serve as an enterprise-level data management and value system. The micro/nano payments of the BSV blockchain enable new and convenient ways to pay for data usage, providing tremendous utility for data, digital activities and services, including the massive requirements of Internet of Things (IoT) platforms.
Enterprises and governments looking to exploit IoT opportunities are increasingly aware that BSV is the only blockchain that can integrate "big data solutions" along with the rollout of IPv6 and Web3 platforms. It bears repeating: entities that embrace BSV blockchain have a clear edge over their competition.
Party along
Rajchgod gave several examples of companies Ayre Ventures has chosen to invest in, each of which – mintBlue, nChain, Over-C and Rekord – manage to eclipse their respective rivals as they possess the secret weapon others lack.
AV is hardly alone in supporting BSV blockchain-focused companies. To date, the London-based Block Dojo incubator program has helped launch 40 companies that have received funding from more than 60 investors. nChain, a 51% shareholder in Block Dojo, also puts its not insignificant financial leverage behind many BSV blockchain-focused projects.
Last but certainly not least, SNGLR Capital's new SNGLR XTF Fund focuses on high-growth sectors enabled by (but not limited to) AI, IoT, robotics and blockchain, and will use BSV blockchain where appropriate.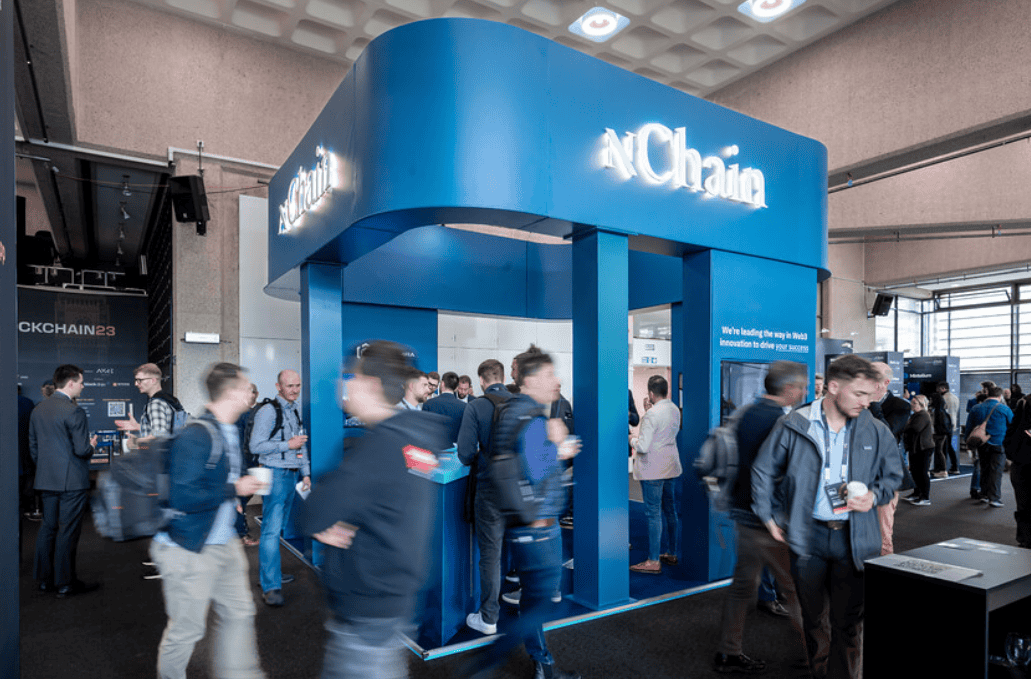 Rajchgod summarized AV's investment themes as follows: BSV blockchain's unique properties enable new ideas and business models, and AV is looking for companies that want to modernize major industries such as computing, gaming, supply chain, fintech and more. BSV blockchain will also provide the blockchain infrastructure that will allow legacy (Web2) companies to integrate Web3 solutions.
Businesses that want to spark the interest of AV need certain features. These include scalable business models with recurring revenue, high margins and low fixed costs. It helps to have managers with a proven track record of building high-growth companies. Preferably your project is already in the 'growth phase' with a team and strong sales growth, or at least you can demonstrate that a growing number of customers are using your product/service.
If your project meets the above criteria, Ayre Ventures would like to hear from you. Check out the Ayre Group website, AVs Twitter feedor LinkedIn account for more information.
Watch: Block Dojo x BSV Blockchain Association's Spring Party Kicks Off London Blockchain Conference 2023
New to Bitcoin? Check out CoinGeek's Bitcoin for beginners section, the ultimate resource guide to learning more about Bitcoin – as originally conceived by Satoshi Nakamoto – and blockchain.