Creating, redefining AI-native digital assets
Singapore City, Singapore, Jul 05, 2023 (GLOBE NEWSWIRE) — Blockchain start-up Web3Go is creating a new form of data product based on AI and blockchain technology with its breakthrough solutions. The company aims to build an intelligent network on the blockchain that will be powered by its in-house AI and big data infrastructure. This network enables users to leverage both on-chain and off-chain datasets, knowledge bases, and AI to create a wide variety of AI-native digital assets, including transactional information flows, trading strategies, trade-support robots, as well as entertainment, education and socially intelligent assistants. In addition, the network will use the blockchain to verify ownership of AI-native digital assets and provide users with a fair, self-sustaining, trustworthy ecosystem.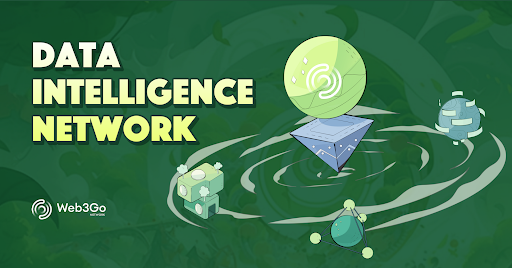 Web3Go will revolutionize the production relations paradigm by leveraging the power of blockchain technology to address the ownership verification challenges of AI-native digital assets, empowering creators to assert their ownership rights. As part of its core mission to prioritize creators, Web3Go will establish a fair, transparent, and trustworthy economic system for creators that provides robust economic support to creators. In addition, Web3Go's intelligence network will equip creators with a comprehensive suite of AI-native digital asset creation and management tools, tailored to meet the unique needs of analysts, traders, influencers and writers. With access to a real-time data infrastructure, makers can explore a wide range of digital asset creation opportunities, including real-time on-chain trading data, off-chain social media data, and user-uploaded data. The diverse data provided by Web3Go's infrastructure provides endless opportunities for creators to generate innovative digital assets through its AI-native digital asset creation platform.
Web3Go organizes its product matrix into three different dimensions: capabilities, models and protocols:
Real-time data processing capabilities, providing a universal framework to address both on-chain and off-chain real-time data computation and information flow problems.
A generic multi-modal large model to address content generation issues so anyone can become a creator effortlessly.
A digital asset circulation protocol to solve the problems related to ownership verification and transaction of datasets and digital assets.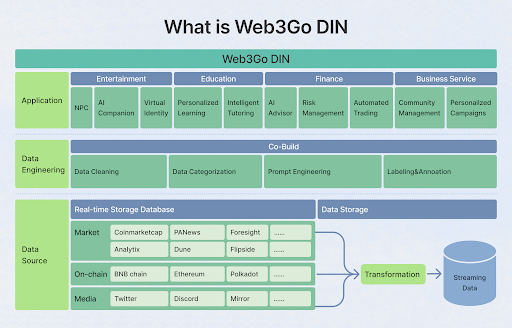 Web3Go's mission is to enable users to access data, transact and create content by providing a range of innovative platform tools. By leveraging the power of blockchain technology to redefine the manufacturing relationship paradigm, the company aims to take on the challenge of verifying ownership of AI-native digital assets. This will pave the way for creator ownership and build the foundation tools for the widespread adoption of AI and blockchain.
Most recently, Web3Go successfully raised $4 million in seed round funding, with Binance Labs leading the investment and participation of Hashkey Capital, NGC, Shima Capital, IVC, LIF, Big Brain Holdings, and Archerman Capital. In addition, Web3Go has been selected for several programs, including the BNB Chain MVB V, AWS Activate, Google Cloud Startup, and Web3 Foundation Grant programs, all of which have provided funding. In addition, Web3Go was selected for the Cyberport Incubation Program in June, which is a significant achievement as it highlights the company's position as a major Web3.0 startup backed by the Hong Kong government.
Web3Go has already consolidated real-time full-chain data for the Polkadot and BNB Chain ecosystems and provides data and AI services to multiple public chains and leading blockchain projects. The native asset creation platform, DIN, is expected to release its beta version at the end of July, targeting all end users and content creators. By the end of Q3, the DIN platform will integrate real-time on-chain trading data, enabling users to create and use AI-enabled trading information streams, trading strategies and trading robots, while ensuring ownership verification of these digital assets as AI. natively through the protocol, guaranteeing creator revenue.
As Web3Go continues to pioneer new areas at the intersection of AI and blockchain, it is poised to lead the new era of AI-native digital assets. By lowering the barriers to digital asset creation by offering data and AI toolsets, and ensuring a fair sharing of benefits through innovative approaches, the company has differentiated itself in the rapidly evolving technology landscape. With its recent successful financing and a clear vision for the future, Web3Go is a promising player in the high-tech startup space.
About Web3Go
Web3Go is a pioneering blockchain company innovating the AI ​​and data sector with its pioneering blockchain solutions. The company is building an intelligence network on the blockchain, seamlessly integrating AI and data, with the goal of providing users with a fair, self-sustaining, trustworthy ecosystem. For more information, visit the website or follow Web3Go further Twitter.
Website: https://web3go.xyz/