SEC lawsuits reveal Wall Street's bid to oust Coinbase and Binance
The crypto market is back in the spotlight. This time it is thanks to the US Securities and Exchange Commission (SEC) lawsuits against leading crypto exchanges Coinbase and Binance and increasing scrutiny. This has led to questions, debates and theories about the SEC's motives.
One such theory suggests that the SEC is trying to undermine these crypto giants. The goal is to pave the way for Wall Street to assert dominance over the cryptocurrency market.
Wall Street giants are entering the crypto market
In today's digital age, some of the most well-known names in the financial industry, such as Standard Chartered, Nomura, and Charles Schwab, are building cryptocurrency trading platforms.
Gautam Chhugani, Senior Analyst at Bernstein, believes fund managers will lean more towards their trusted brands. This contrasts with the trust of opaque crypto exchanges such as Binance and Coinbase that currently dominate the industry.
"The big pedigreed traditional institutional investors definitely prefer to do business with counterparties that they know have been around for years and are regulated in the traditional sense," said Chhugani.
Wall Street's push comes amid a tumultuous period for the cryptocurrency market. Several crypto exchanges and lending platforms, including FTX, Celsius, and Voyager, collapsed last year, highlighting the inherent risks of these largely unregulated businesses.
Against this backdrop, traditional financial institutions hope that their brand reputation and industry expertise, untouched by the recent spate of crypto scandals, will lure fund managers to their new platforms.
"A lot of institutional players are testing different activities to test the waters, build a little experience in the market, but also . . . ensuring they have an option for further growth opportunities," said Alexandre Birry, Chief Analytical Officer at S&P Global Ratings.
Regulatory storm hits major crypto exchanges
Recent SEC actions against major crypto exchanges Binance and Coinbase are raising concerns in the crypto space.
The SEC charged Binance, the world's largest crypto exchange, and its founder, Changpeng Zhao, with multiple regulatory violations. These include allegations of mixing billions of dollars in user funds. In addition, they are undermining their own controls to allow wealthy US investors to continue trading on Binance's unregulated international exchange.
"Through thirteen indictments, we allege that Zhao and Binance entities engaged in an extensive web of deception, conflicts of interest, lack of disclosure and calculated evasion of the law," said SEC Chairman Gary Gensler.
On the other hand, the SEC sued Coinbase, claiming that the company was acting as an unregistered broker and exchange. According to the regulator, Coinbase's flagship prime brokerage, exchange and staking programs violate securities laws.
"We allege that Coinbase, despite being subject to securities laws, mixed and unlawfully offered exchange, broker-dealer, and clearinghouse functions," Gensler affirmed.
The SEC lawsuits against Binance and Coinbase have sparked multiple debates. Indeed, some are questioning whether the regulator plans to bankrupt the crypto exchanges to pave the way for Wall Street takeover.
The power play in the crypto industry
The entry of traditional financial institutions into the crypto market could be a game-changer. These institutions leverage their industry expertise to create companies that offer a more secure, reliable alternative to current crypto exchanges.
They are building their infrastructure along more traditional lines, moving away from the opaque and often scandal-ridden crypto industry.
Prominent broker Charles Schwab and market makers Citadel Securities and Virtu Financial are part of the consortium backing EDX Markets. At the same time, British financial institution Standard Chartered supports exchange Zodia Markets and custody service provider Zodia Custody.
"They wanted to build an exchange they were comfortable with," said Jamil Nazarali, CEO of EDX Markets
This strategic shift could potentially disrupt the dominance of established crypto exchanges such as Binance or Coinbase. Should Wall Street-backed crypto companies succeed in courting institutional asset managers, a new era of transparency, regulation, and stability could dawn for the crypto industry.
The future of the crypto market with Wall Street
The SEC lawsuits against Binance and Coinbase and Wall Street's entry into the crypto space may signal a shift in the crypto industry.
With these actions, the SEC seems to want to regulate the crypto industry more tightly. This could pave the way for traditional financial institutions to take on a bigger role.
"The infrastructure being built by major institutions is markedly different from the original structure of the crypto industry. Wall Street executives are keen to separate business units, such as trading, from custody, as a way to reduce risk and potential conflicts of interest," the Financial Times reported.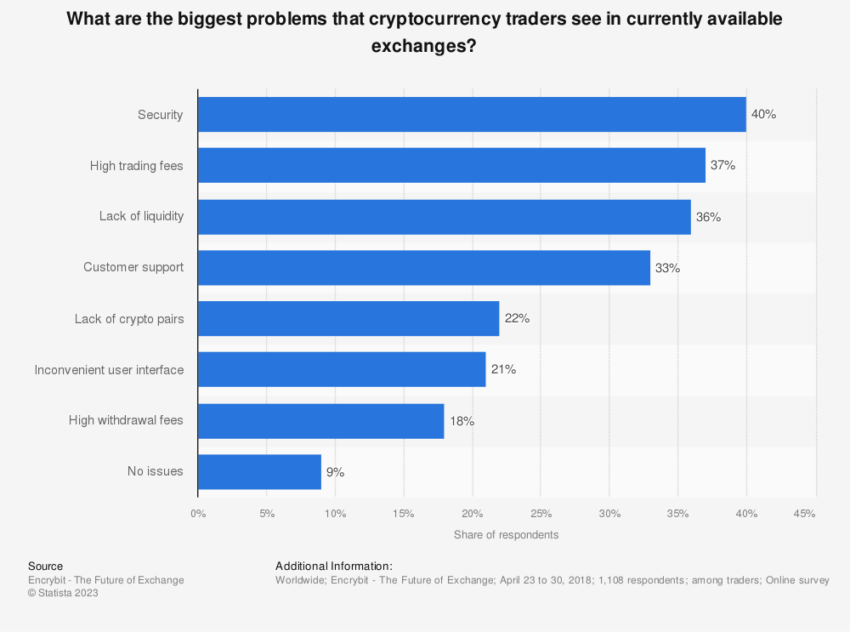 However, it is still too early to say whether these traditional financial institutions can successfully break into the crypto industry. Let alone that they pose a real threat to the dominance of established crypto exchanges.
What is certain is that Wall Street's entry into the crypto market and regulatory action against major crypto exchanges will determine the future of the industry. The ongoing developments suggest that a more regulated and transparent industry is on the horizon.
disclaimer
Following the Trust Project guidelines, this editorial presents opinions and perspectives from industry experts or individuals. BeInCrypto is committed to transparent reporting, but the opinions expressed in this article do not necessarily reflect those of BeInCrypto or its contributors. Readers should independently verify information and consult a professional before making any decisions based on this content.