XRP Price Prediction As Rumors Abound That SEC Chairman Gary Gensler Resigns – How Will XRP React?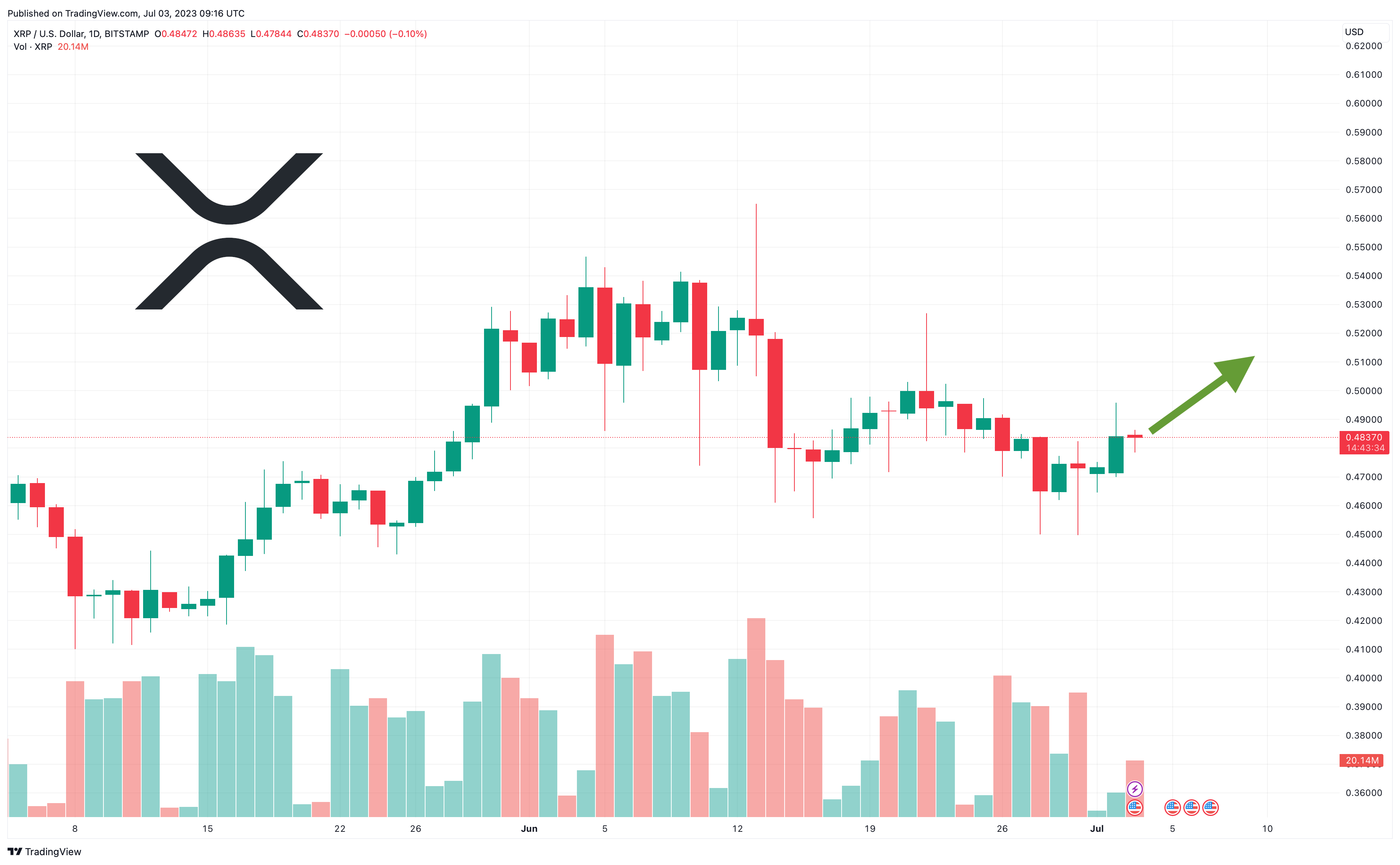 The XRP price has barely changed in the last 24 hours, despite reports that SEC Chairman Gary Gensler is stepping down from his position.
At $0.482915, XRP is down 0.3% in a week and 8% in the last 30 days, even though the altcoin is up 42% since the start of the year.
However, XRP holders may have hoped that the coin's price would rise even further yesterday, as speculation began swirling around social media that Gensler had delivered his letter of resignation.
Unfortunately, the article that broke this alleged news is highly dubious, with ZeroGPT analysis suggesting it was written by AI.
XRP Price Prediction As Rumors Abound That SEC Chairman Gary Gensler Resigns – How Will XRP React?
Despite XRP's inactivity today, the indicators suggest a slight increase in momentum, something that could signal an emerging rally.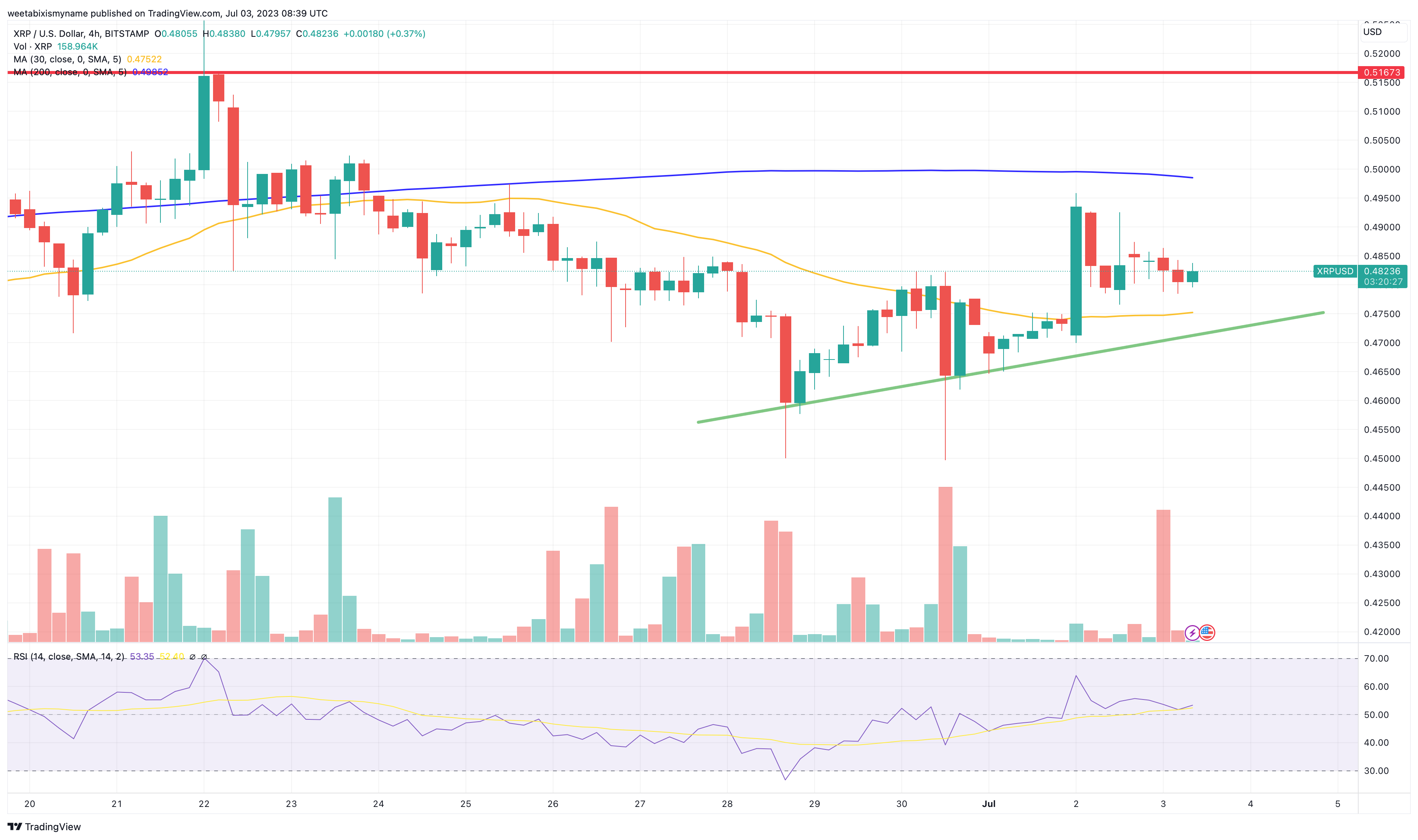 The Relative Strength Index (purple) has continued to rise since falling below 30 last week, with the indicator now above 50 and still rising, indicating an increase in buying pressure.
Similarly, XRP's 30-day moving average (yellow) is also slowly climbing upwards after bottoming against the 200-day moving average (blue) over the weekend.
It is also worth pointing out that XRP's support level (green) is increasing, giving the altcoin a higher base to stage future rallies.
Taken together, these three indicators indicate that XRP could be rising soon, even though it hasn't done much in the past 24 hours.
But as mentioned above, if certain rumors had been true, it could have had a much busier Sunday than it ended up being.
According to an article on thecryptalert.com, SEC Chairman Gary Gensler had resigned following the conclusion of an internal investigation into his conduct.
The author of the article claimed to have spoken with an "anonymous official" at the securities regulator, as well as another "anonymous source familiar with the matter."
This coverage was quickly picked up by a number of social media accounts, which passed on the message of the article without subjecting the content to any real scrutiny.
As a result, XRP experienced a mini-surge for a brief period yesterday, until journalists from a few more established media outlets took a closer look at the source of the rumor.
Using the ZeroGPT AI detection algorithm, they tested the article and found that it scored 98.61%, with the results stating that "Your Text is AI/GPT Generated."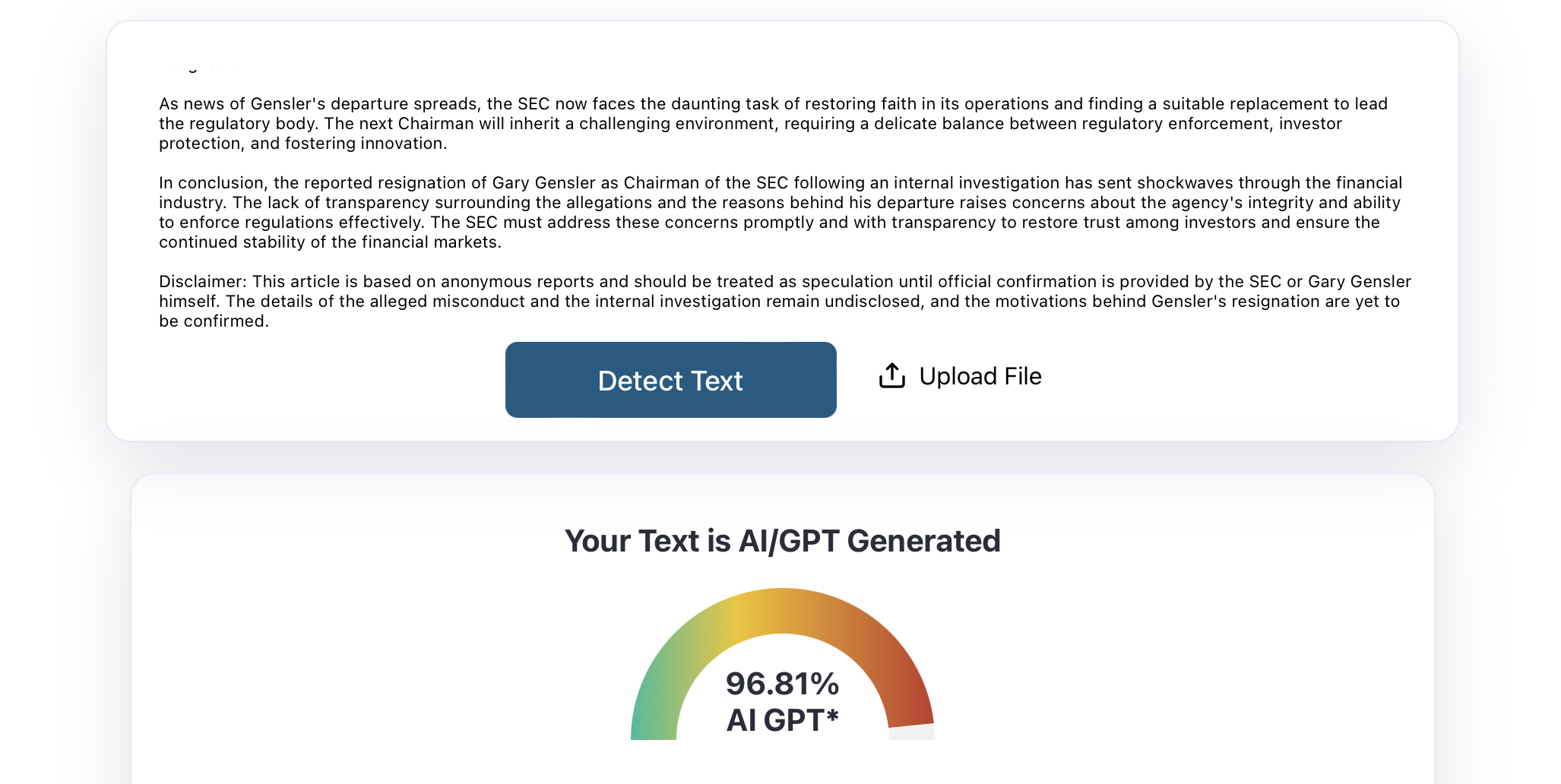 This revelation quickly ended the buzz around XRP, which lost ground after its small rally.
Still, the overall picture for XRP remains positive as Ripple awaits the conclusion of its case with the SEC.
The belief remains that Ripple has a very high chance of a good summary judgment or settlement, with sentiment improving in recent weeks with the revelation of the highly anticipated Hinman emails.
These revealed that even the SEC was confused about how securities laws applied to cryptocurrencies, a revelation that bolsters Ripple's fair notice defense.
So if Ripple achieves anything close to victory in the coming months, XRP would likely witness one of its biggest rallies ever.
It could go up to $1 in a matter of weeks, before potentially reaching $2 by the end of the year.
Presale tokens for high potential profits
The problem with XRP, however, is that it could take a few more months for the court to reach a decision, meaning holders probably won't have to collectively hold their breath.
Therefore, traders may be advised to look at altcoins that offer higher chances of profit in the shorter term, with presale tokens in particular fitting such a profile.
One of the most popular presale coins right now is Thug Life Token (THUG), a meme token that has joined gangsta rap and hip-hop culture.
It launched its presale last week and has already raised more than $250,000, an impressive total for such a young project.
With a maximum total supply of 4.2 billion THUG, Thug Life Token has allocated 70% of this total to the pre-sale, meaning it will be its community that has the largest stake in the meme coin.
THUG's pre-sale will only have one phase, making the meme token available at a price of $0.0007, a price that will likely increase by a decent margin once it's listed on exchanges.
The sale closes after the $2,058,000 hard limit is reached, meaning it's already more than 10% of the way to completion.
And because meme tokens have probably been the most profitable category of tokens this year, THUG really has a high chance of outperforming the market when it quotes in the coming weeks.
Investors can participate in the presale by visiting the official Thug Life Token website, where THUG can be purchased by connecting your software wallet and using ETH, USDT or fiat currency.
Visit the Thug Life Token now
Disclaimer: Crypto is a high risk asset class. This article is for informational purposes only and does not constitute investment advice. You can lose all your capital.